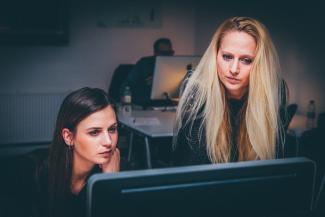 WOMEN'S FINANCIAL NEEDS HAVE BEEN AFFECTED BY THE PANDEMIC
The pandemic has had an impact on women's finances in a number of ways.  Job loss and divorce have become a large part of the pandemic that is impacting women and their financial challenges. 
Frequently women work at jobs that have now become unavailable due to the pandemic.  Jobs that are "people based" and cannot be done remotely from home.  Jobs associated with education, office work, social work and restaurant work have almost disappeared.  With schools currently using remote learning women have had to stay home and take care of children often putting their careers aside.  This has caused financial instability coupled with the still present gender pay gap.  Women continue to earn less than men.  That means women are working harder and having less set aside for retirement even though their life expectancies are greater than men. 
Divorce rates for couples having to live cooped up together over a long period of time due to the pandemic are climbing.  The added stress and challenges of quarantine and juggling work and childcare chores have led to an increase in divorce.  Unfortunately, many women find that their financial circumstances are reduced due to divorce.  This can mean a lower standard of living and a setback in retirement saving.  Often debt is also a problem that leaves couples with an added financial burden to deal with as well.  Divorce may cut household resources for women by as much as half.
Divorce can be emotionally very difficult for women to manage as they are coping with what is often a decline in their financial resources.  Women who have been out of the work force because they were caring for family or children during the pandemic find that may be a problem when they eventually have to re-enter the workforce.  I would like to suggest that any woman who is facing divorce look for help and advice from professionals such as an attorney and a financial advisor before they make any financial decisions.  It is almost impossible to go back and undo what has previously been agreed to.  It is also important to consider getting help at a time that can feel overwhelming to you.  It is important to have a team on your side when the choices that are made have long term financial consequences.
Women are sometimes reluctant to seek professional financial advice though they may be struggling to make financial decisions.  That could be due to a lack of confidence when it comes to financial matters or it might be embarrassment or even distrust about something that seems unfamiliar.  It could be a lack of financial awareness if the finances were handled by someone other than themselves and there is no understanding of how the finances were managed or what is available.
I think that it is better to know what your financial options are and what you want to work toward than remain in the dark not knowing how to go forward.  A financial advisor will provide information and can be a resource to help women toward financial self-reliance.
Women have courage and resiliency.  They are the givers but sometimes they need to stop and take the time to be their own care givers.